Here's What You Need to Remember: Superior Private Tomisaburo Sawa of the Imperial Japanese Army fixed the bayonet on his Type 99 Arisaka rifle and carefully checked to make sure the weapon was loaded. From his position on the veranda of the prison guard barracks, he watched as members of his platoon advanced across the courtyard. The POWs that Sawa were in charge of didn't know it, but many would soon become victims of the now-infamous Palawan massacre. 
U.S. Marine Corps Pfc. Glenn "Mac" McDole saw the Japanese soldiers coming from the entranceway of his trench air raid shelter and knew instinctively that something was terribly wrong. 
The Japanese guards were in full combat gear, with bayonets fixed. There was a guttural order, the line stopped, and the Japanese quickly formed a semi-circle around the trenches filled with American POWs.
"I saw five [Japanese] soldiers go up to one of the air raid shelters and throw buckets of gasoline into the entrance," Private Sawa stated. "This was followed by two men, who threw lighted torches into the opening." 
McDole watched horrorstruck as flames engulfed the trapped Americans. He saw one human torch climb out of the trench and run screaming toward the enemy. They shot him down, unintentionally putting the man out of his misery. 
Others were not so lucky. The guards watched them burn to death in agony. McDole ducked down, terrified at what he had seen. "My God," he thought, "the Japanese are going to kill us all."
Building "Roads" at the Death Camp
With the surrender of U.S. forces in the Philippines in 1942, American prisoners of war were immediately confined in filthy, overcrowded POW camps near Manila. McDole was sent to the infamous Cabanatuan No. 1, where he quickly decided that it was nothing but a death camp. Ten to 15 men died every day of malnutrition, vitamin deficiency, and a variety of contagious diseases. "I never saw so many fellows dying each day," McDole recalled. "No medicines or anything."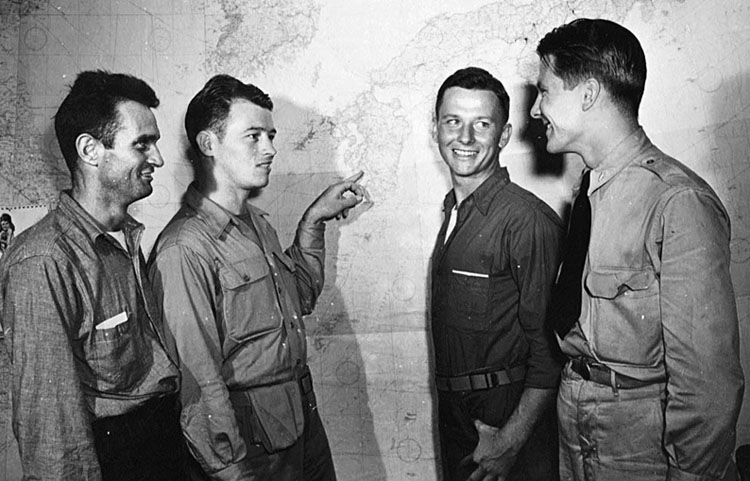 In addition, many prisoners were executed by their brutal, sadistic guards for a variety of trumped-up charges. McDole knew that it was only a matter of time until the same thing happened to him, and he searched for a way to get out of the camp. It finally came in the form of a large working party. "Want men, want men," the guards shouted out. "Three hundred go to Manila." Envisioning better conditions, McDole quickly raised his hand despite the old Corps adage ("Never volunteer"). 
On August 12, 1942, he was taken to Palawan, one of the largest islands in the Philippines—270 miles long and 15 miles wide, located on the western perimeter of the Sulu Sea—and marched to an old, dilapidated Filipino Constabulary barracks, his home for the next two-and-a-half years. He passed through the stone entranceway, along a dirt road lined with a dozen coconut trees to a courtyard in front of a U-shaped barracks building. 
The prisoners were met by the commander of the 131st Airfield Battalion, Captain Nagayoshi Kojima, nicknamed "the Weasel" by the POWs.
"Kojima stood on a little pedestal so he could look down on us," McDole remembered. "In a squeaky voice, he would say, 'Americans—' and then pause.
'Today we build roads.' It wasn't long before we knew it was a lie … we were to build an airstrip." McDole was incredulous. There was nothing around the camp but thick jungle. 
A Life of Poor Food, Little Medical Aid, and Brutal Treatment
The prisoners started to work almost immediately, felling trees, hauling and crushing coral gravel, and pouring concrete, day after day without adequate rest or food. "It was all hand labor," McDole emphasized, "with only a level mess kit of rice and an occasional bowl of mongo bean soup to keep us going." 
Food became an obsession; the prisoners thought of it night and day. McDole dreamed of angel food cake and ice cream. Others made up elaborate menus they intended to eat upon liberation. In the meantime, they had to do with what they could scrounge: lizards, birds, monkeys, snakes. In fact, McDole rather took a fancy to roasted snake. "Tastes just like chicken," he claimed.  
Many of the prisoners became sick and unable to work, while others suffered from Japanese brutality. "We had so many fellows sick and beat up," McDole recalled, "that they filled one wing of the barracks, which we called sick bay." 
The term "sick bay" was a misnomer, because there were no medicines, and the men were put on half rations if they did not work. "The Japanese carried a short club a bit thicker than an officer's woven leather 'swagger stick,'" McDole recalled. "The guards were expert at applying it to the kidneys or the back of the head. They could drop a man with one blow." 
One guard caught two prisoners taking green papayas from a tree in the compound and punished them by breaking their left arms with an iron bar. One day at work, McDole was doping off and got caught. A guard hit him on the head, dropping him to his knees. Foolishly, McDole got up, looked him in the eyes and said, "Ya didn't hurt me, you SOB!" The guard hit him—and down he went again. 
Furious, McDole got up and yelled, "Ya still didn't hurt me!" Other prisoners looked on, knowing that the guard could easily kill him for insubordination. Instead, the Japanese soldier just shook his head and said, "Ya baka (You're crazy)!" and walked away.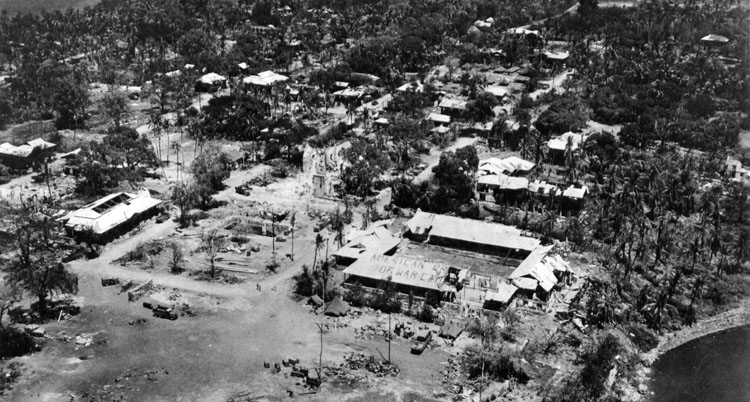 Other prisoners were not as lucky as McDole. The Japanese learned that several POWs had made contact with the local Filipinos, who gave them information and food. The men were tied to the courtyard coconut trees and beaten in front of the rest of the prisoners. One of the men was thrashed with a wire whip, which tore his flesh to the bone. When one guard tired, another took his place. The men were beaten unconscious, dragged to a cell and put on a ration of half a mess kit of rice every three days. 
Even with the close supervision and threat of dire punishment, several prisoners managed to escape—but not all of them made it to freedom. Two POWs who had made it through the wire managed to elude capture for six days before being dragged back to the camp. They were severely beaten before the assembled prisoners until unconscious and then loaded on a truck and taken away. Filipinos said they were shot and buried in unmarked graves.     
 McDole Gets an Emergency Appendectomy Inside the Palawan Camp
There was one American doctor in the camp, but the Japanese would not give him any medicine, so he relied on his own remedies, which, fortunately for McDole, were good enough. 
On March 14, 1943, McDole desperately needed the doctor's expertise. "I was busting rock when I suddenly broke out in a cold sweat. I grabbed my side and down on my knees I went. The next thing I knew a guard was beating the heck out of me, telling me to get back to work." The American doctor convinced the guard that McDole was really sick and got him back to camp. 
He was diagnosed with acute appendicitis and told he would die without an immediate operation. The catch was, there was no anesthetic. McDole responded bravely, "If I'm going to die, let's die trying." He was held down on a table by five guards, who made fun of his screams as the doctor operated. 
"It took him two hours and fifty minutes to get the appendix out and suture me back together," McDole recalled. Unfortunately, infection set in and he was close to death. One night his abdomen ruptured, spewing a noxious mixture of pus and blood on the deck. The doctor tried sewing the wound shut but the thread would not hold in the mutilated skin. When that failed, the doctor took shirt buttons, lined them up alongside the incision and sewed it up, which left a rather unique scar. After weeks of recovery, McDole was finally well enough to go back to work.
Help from Above? 
By mid-October 1944, the prisoners were startled by the appearance of American B-24 Liberators overhead, which began to systematically bomb the airfield. In one memorable raid, they destroyed 60 Japanese planes on the ground. Their arrival verified the rumors that an American invasion force was approaching the Philippines. 
The POWs were overjoyed, but at the same time worried. They had heard that the guards were under orders to kill all the prisoners if the Americans invaded the island. The camp commander decreed that the POWs had to dig trenches roofed with logs and dirt to serve as air raid shelters.
Source
The Palawan Massacre: The Story from One of its Few Survivors is written by Warfare History Network for nationalinterest.org